White labeling your delivery emails adds a professional touch and aligns your messages with your brand. If you're a Bronze, Silver, or Gold tier subscriber in Single, you can customize the delivery emails sent to fans when they purchase from your Shopify store.
---
Anatomy of a White Labeled Email
Example screenshot of key white-labeled email components: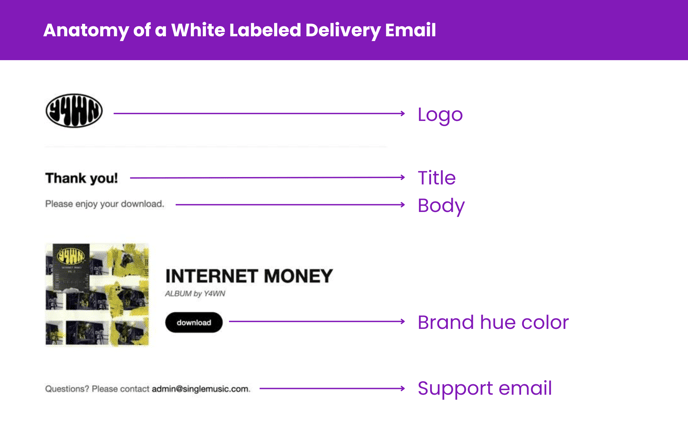 Header Logo: Your brand's logo (JPG, JPEG, PNG, RGB, < 20MB required).
Primary Color: Updates the email's button color.
Title: A small header of text that appears at the top of all delivery emails.
Body: A small body of text that applies to all delivery emails.
Support Email: Included in the footer for customer support.
---
Steps to Enabling White Labeling
Log into your Single account.
From the left sidebar, go to Settings > Notifications.
Enable the White Label toggle and add the following:


Primary Color
Header logo
Title
Body

Next, add and configure your delivery settings:

Customer Support Link - this will be listed in the email and used for replies
Customer Support Email - this will be linked in the email footer
Custom 'From / Reply to' Email (optional) - to receive replies at this address, your domain must be verified.

Click "Save Delivery Settings".
---
Steps to Testing Your Email Delivery
Select your digital release from the dropdown menu.
Click to Send Test Email to ensure everything looks perfect.